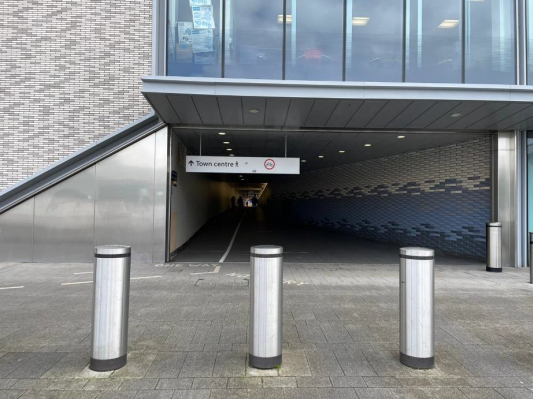 Council Proposes Opening Up Station Subway to Cyclists
Council is proposing removing the cycling restriction along Reading Station Subway which has been in place since it opened in 2013
Removing low ceilings panels and improved lighting also form part of the proposals
THE Council is proposing to open up yet another key strategic route for cyclists in the town by removing the current restriction to cycling though the Station Subway, which links the Caversham side of Reading Station to the Town Centre side.
Reading Borough Council is proposing a statutory consultation on the removal of the cycling prohibition, while at the same time improving lighting and removing the lowest ceiling panels along the underpass which are regularly vandalised, to create more headroom and a safer route for cyclists.
The proposal to consult will be discussed at a meeting of the Council's Traffic Management Sub-Committee next Wednesday (Sep 14) https://democracy.reading.gov.uk/documents/s23310/08%20Station%20Underpass%20-%20Proposal%20to%20revoke%20cycling%20prohibition.pdf
The Reading Station Subway was opened in 2013 at the insistence of Reading Borough Council, who wanted to maintain the north-south pedestrian link through the station when it was redeveloped by Network Rail. Engineering constraints at the time meant the subway construction included a low suspended ceiling. A Cycling Prohibition Order was subsequently put in place due to height and width clearances being substandard and for the safety of cyclists.
Both the Council and cycling groups have been keen to find a solution that would unblock the barrier and enable safe cycling through this key strategic route. As a result, the Council has commissioned a feasibility report on allowing cycling by using section 106 planning agreement funding to remove the lowest ceiling panels and tidy the existing concrete ceiling. The improved headroom clearance, although still below national guidelines, would allow the Council to accept the position and revoke the historic Cycling Prohibition Order.
Under separate plans, the Council also intends to replace the underpass lighting with LED lanterns in order to reduce energy consumption and enable remote monitoring and control of lighting, in the context of the Council further reducing its energy consumption as it works towards a net zero carbon Reading by 2030.
Tony Page, Reading Council's Lead Councillor for Climate Strategy and Transport, said:
"It's fair to say the prohibition of cycling through this underpass has long been an issue with local campaigners. I am pleased therefore that the Council is now in a position to consult on the option to remove the prohibition order.
"The identification of Section 106 funding specifically for this scheme, in order to remove some of the lowest ceiling panels, has made this possible. Regular users of the underpass will also know that these panels are regularly vandalised, which is another good reason for progressing these improvements.
"If the consultation is agreed at committee next week we will publicise how people can have their say, at which point any objections will return to councillors for consideration."