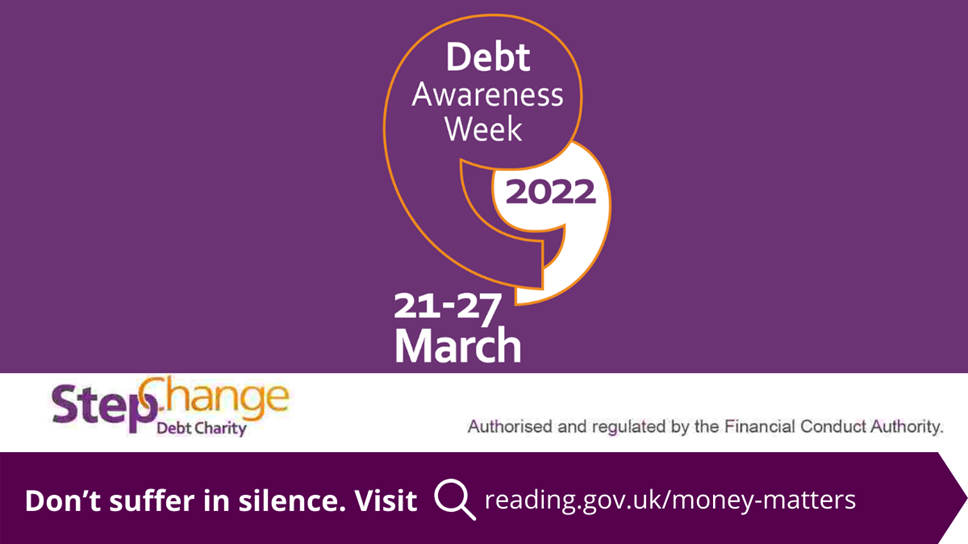 Council Offers Money Advice Ahead Of Debt Awareness Week
Residents urged to make use of Council help if they are worried about debt
Resources include Money Matters website providing benefits checker amongst other guidance
Highly trained, friendly advisors also able to assist those in need of advice
AHEAD of Debt Awareness Week which begins on Monday, Reading Borough Council is urging residents not to suffer money worries in silence, and reminding them of the help and guidance it can provide.
Debt Awareness Week, running from 21 - 27 March, is being launched by StepChange, one of the largest debt advice charities in the UK, and is designed to promote conversation about debt and the advice and help available, which for the people of Reading includes assistance from the Council.
Reading Borough Council's Money Matters website brings together a host of valuable free information which residents can access to help them improve their financial situation, including a benefit checker and a directory of local and national advice services available.
A team of highly trained and friendly advisors at the Council are on hand to help its tenants and any residents affected by the benefit cap or at risk of homelessness, by providing free, confidential, impartial, personalised advice.
As well as general debt advice, the team can:
Explore ways to increase income and reduce outgoings.
Check you are receiving all the benefits you are entitled to.
Advise on bills/debts that need to be paid to keep important goods and services.
Support you to make an informed decision how you would like to deal with your debts.
Understand benefit awards and help you to challenge decisions.
Plan your spending and get back in control of your finances.
The Council has also launched a Click Before You Evict website containing a series of tools, help and advice videos for landlords and tenants to help them work together to address issues that may otherwise lead to significant problems with a tenancy, and could lead to an eviction.
Cllr Ellie Emberson, Reading's Lead Member for Housing, said:
"People would rather not talk about struggling with money or debt, but it is important that we get the message through that you are not alone and that help is always available. If you're worried about debt, talking to someone can help – and that's where our team of friendly and knowledgeable advisors come in. They'll talk you through it and help you to turn things around".
Residents can find out more about the advice services available locally and nationally on the Council's Money Matters website www.reading.gov.uk/housing/money-matters and find out more about StepChange and the support they provide at www.stepchange.org