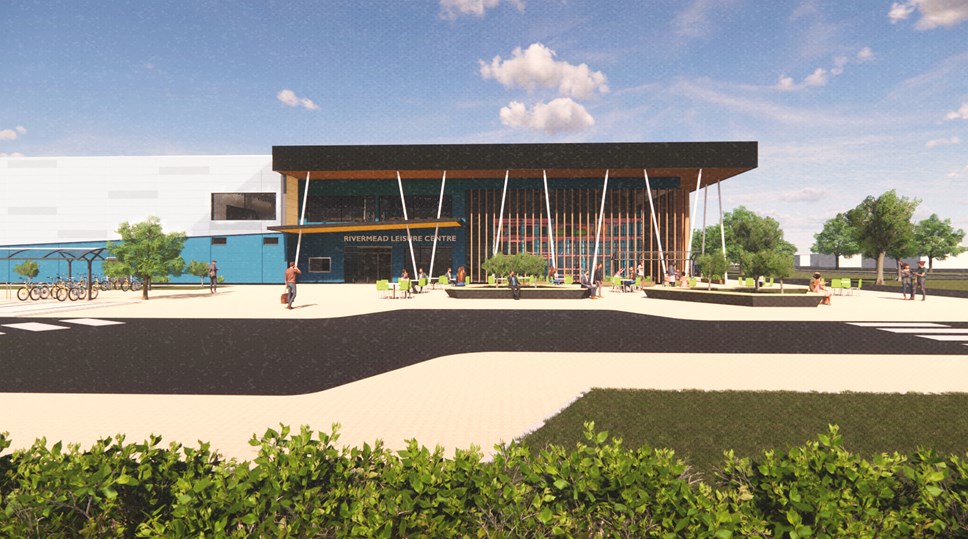 Council Moves to Secure Future of Major Leisure Project with Additional Investment
Overall investment is set to be £38.451 million
Council remains fully committed to delivering the new leisure facilities
THE Council is set to approve an additional £2.433 million investment in modern new leisure facilities for Reading to cover additional costs largely caused by the impact of the ongoing Covid pandemic.
If approved at a special Council meeting on 8 June, it would bring Reading Borough Council's overall investment in two brand new pools, a modern new leisure centre and improvements to existing leisure facilities in the town to £38.451 million which are being delivered in partnership with Greenwich Leisure Ltd (GLL).
Despite the challenges presented by the ongoing pandemic and the resulting costs associated with this project, the Council remains fully committed to delivering the new leisure facilities, to reducing health inequalities and to inspiring people to lead healthier lives.
The Council have submitted a funding application with Sport England for £1.5m to support the development of these facilities, reflecting their importance in increasing participation in physical activity and sport in the region. The result of the bid is expected in June.
The additional costs mainly relate to the inflationary price of construction material affecting all large construction projects at this time and new requirements to comply with Covid19 construction safety practices. The cost of a variety of building materials and items are more expensive as a result of a reduction in their manufacture and availability during the pandemic and the ongoing resultant shortages which are expected to continue in the medium term. Together they account for £1.168m of the extra costs.
The remainder is made up of planning conditions which include measures to manage groundwater flood risk and ground contamination work, as well as costs relating to the diversion of exiting and the provision of new utilities.
All additional costs have been reviewed in detail by two independent cost consultancy firms with direct experience of costing of new leisure centre builds. Both companies confirm that the costs are at a competitive market rate and have benchmarked the estimates against recent comparable new leisure builds.
The new Rivermead facilities will still include:
25m 8 lane competition pool, with moveable pool floor
Splash pad for younger users
Diving pool with moveable pool floor
25m 5 lane club/swim lesson pool (demountable pool)
At Palmer Park, in addition to the refurbishment of the existing stadium building, there will be:
A modern new 25 metre, 6-lane community pool
A 100-station gym with three studios
An activity zone for children with party rooms,
And a new café and information hub.
There will also be improvements at South Reading and Meadway leisure centres.
Cllr Graeme Hoskin, Reading's Lead Councillor for Health, Wellbeing & Sport, said:
"I'm really pleased and excited that we are now on the verge of starting the building of our new pools and leisure centres. Despite the unprecedented challenges of the past year and the related extra costs, the Council remains fully committed to delivering the modern new leisure facilities a town of our size and status deserves.
"A national survey published this month revealed that a third of council-run leisure centres are facing permanent closure*. We aim to do everything in our power to ensure this does not happen in Reading.
"It would be unrealistic not to expect final construction costs to shift in a project of this size and complexity in ordinary times, let alone during a pandemic which has shifted many of the goalposts. It is also important to note the additional costs have been confirmed by two independent experts in the leisure field.
"We refuse to compromise on the quality of the new facilities being built. Aligning with our commitment to sustainability, they will be constructed to BREEAM Excellent standards and with renewable wherever possible. Measures to reduce carbon emissions and improve environmental efficiency will hopefully make Reading's leisure facilities some of the best-performing facilities in the UK.
"They also achieve a good balance for Reading's communities and for families at a time when it is more important than ever we inspire the communities we serve to lead healthier, more active lives and by offering targeted activities to help reduce health inequalities we know exist in Reading."
The report for the 8 June Council meeting can be found at: https://democracy.reading.gov.uk/documents/s17263/LeisureConstructionCostUpdate.pdf
The applications for both Rivermead and Palmer Park were approved at Reading Council's Planning Committee on 31 March. Subject to new spend approval, the Council will shortly enter into a 25-year contract with GLL. Construction is due to begin on both sites this summer with the aim of delivering the new facilities by early 2023.
Ends