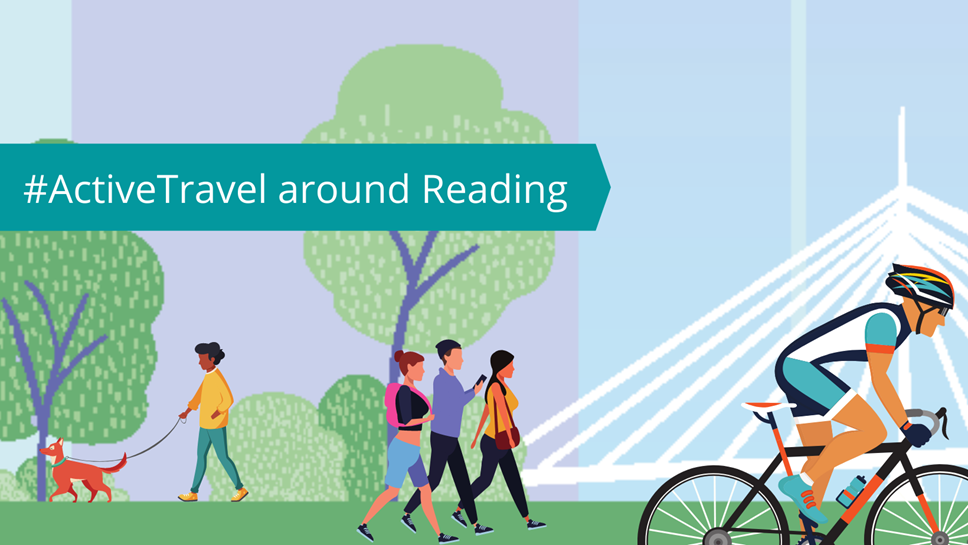 Council launches new walking and cycling maps this summer
New walking and cycling maps encourage everyone to travel actively around Reading
Explore the Borough on foot or by bike
An online interactive map is also available
NEW walking and cycling maps, including an interactive map, are now available for residents and visitors to Reading.
The new maps aim to help encourage people to leave their cars at home and travel actively around the borough, for work and school, as well as exploring the area for leisure.
People can now plan a walk or cycle in Reading also using our exciting new Reading cycle and walking routes interactive map.
With this map you can:
view all up-to-date walking routes and interact with them to get more information
plan your journey by combining cycling and walking routes to key locations
The printed maps (with information leaflets) are available to download as high-resolution PDFs for print at home or can be picked up from local library branches.
Reading walking routes range from main walking ways to revealing lesser-known link footway routes and public rights of way across the borough.
The walking map also provides a detailed town centre map, revealing Reading's rich history and architecture and highlighting places to visit. The map aims to enable walking for pleasure by Reading's riversides as well as larger parks and open spaces.
The cycle map sets out the major branded cycle routes through Reading as well as showing the National Cycle Network and how they link together.
It also shows information such as cycle parking facilities and the park and stride locations and other safety information.
Cllr Tony Page, Reading Borough Council's Lead Councillor for Climate Strategy and Transport, said: "Walking or cycling instead of using the car has many benefits for our physical and mental wellbeing, the health of our local environment and our wallets. Bikes are the most energy-efficient form of transport and can be faster and more predictable than cars for short journeys. Cycling or walking regularly can keep you fit, save you money (no tax, no fuel, no fares) and it's one of the most environmentally-friendly ways to travel.
"Supporting people's journeys via active travel around Reading, be it to work, school or pleasure, is a priority for the Council, so I'm pleased to highlight our new walking and cycle maps for use by the public. The summer break is a great time to explore new ways to do the school run or work commute and embed changes for the autumn.
"Our interactive online maps provide the most up-to-date information on Reading's routes and for anyone who prefers a hard copy, there are printable versions available online – or for collection at your local library.
"These maps are just one part of our wider range of initiatives aimed at supporting a shift in travel behaviour to active modes, including offering free cycle courses for residents to help boost confidence on the road. We are creating more pedestrian and segregated cycle routes (such as the approved scheme along the full length of Shinfield Rd), and we are currently consulting local residents about the draft proposals for the Bath Road/Castle Hill segregated cycle lanes. We also have new cycle parking planned, including a new bike parking and advice hub in the centre of Reading.
"Good progress is being made with major sustainable travel investments like the new Green Park Station and the refurbished Reading West Station, for example, both due for completion this year."
You can plan a cycle ride from and to Reading using the National Cycle Network on the Sustrans website: www.sustrans.org.uk/ncn/map/national-cycle-network
The maps are part of the Council's wider ambitions for encouraging more active travel, through cycling and walking, and as a result, support better physical and mental health, and improved local air quality, as well as contributing to lower carbon generation and our wider Climate Emergency Strategy.
Ends