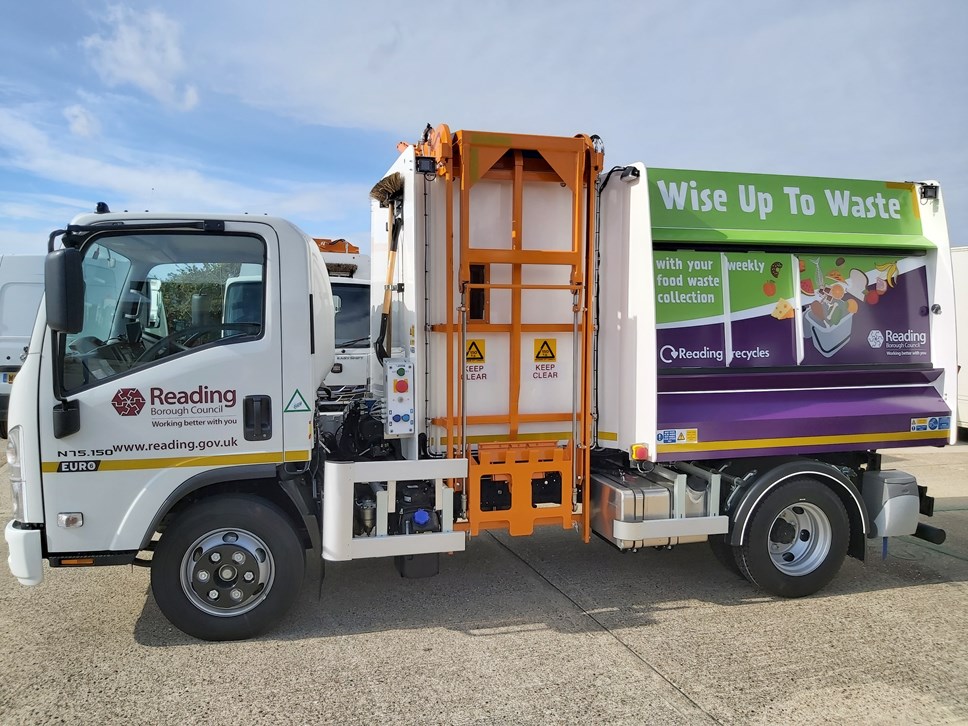 Council Issues Tips For Food Waste Action Week
Advice includes meal planning, food storage and how to find recipes for your leftovers
Residents who stopped food recycling are encouraged to restart by ordering new caddies and food bins for free
Reading's recycling rate has risen from 34% to 50% since food recycling was introduced
RESIDENTS are being offered useful advice to help them create less food waste and dispose of it properly as part of Food Waste Action Week.
Reading Borough Council is supporting the event, taking place from Monday 6 – Sunday 12 March and held by WRAP (Waste & Resources Action Programme), a charity tackling the causes of the climate crisis who claim that 4.5 million tonnes of edible food is thrown away each year by UK households.
The Council introduced food waste recycling in early 2020, a change which has seen recycling rates rise from 34% to 50%. It is now encouraging residents to think about the following to help increase the food that they recycle:
Planning your meals and writing a shopping list can help you only buy what you need and what you will use. 25% of food wasted in households is due to cooking, preparing or serving too much – this costs UK households £3.5billion each year
You can donate any unwanted, unopened food items to food banks such as Readifood (www.readifood.org.uk). Alternatively, you can donate them on food swapping apps or websites.
Use a slow cooker which is energy efficient and good for batch cooking which means you'll waste less and have future meals already prepped for you
Arm yourself with some small reusable containers and bring your leftovers to work for lunch the next day.
Storing your food in the right place will help it to stay fresher for longer. Make sure to freeze any food that you won't need until later in the week and keep your fruit and veg in the fridge
Try the SuperCook website (www.supercook.com) to use what you've got left. Enter your leftover food items on the website and instantly receive a meal suggestion and recipe for what you can make with your excess food items. Big Oven (www.bigoven.com) also has lots of recipe ideas to use up your leftovers.
Make sure to put your rubbish in the correct bin! By recycling food waste you can help stop it going to landfill where it rots and releases methane, a harmful greenhouse gas. It is also cheaper to recycle food waste, with every lorry load of food composted instead of being sent to landfill saving £100. Recycled food waste can then be turned into fertiliser for farming, and electricity to power homes.
If you've abandoned recycling food you can always hop back on – and the Council is encouraging everyone to do so. Anyone needing a new food waste kitchen caddy or outdoor food waste bin can contact the Council (www.reading.gov.uk/waste-and-recycling/order-a-bin-or-bag) to receive replacements for free to help you get your food recycling out of your grey bins. Liners can be collected for free from our libraries and leisure centres.
Residents can put all forms of cooked and uncooked food in their food waste bin including fruit and veg, meat and fish, rice, pasta, bread, dairy, egg shells, plate scrapings and tea bags and coffee grounds. Used cooking oil - in a sealed plastic bottle - can also be placed inside food waste bins for recycling.
The second phase of Reading's food waste recycling scheme rollout commenced in the summer, and has brought the service to over 950 flats across 42 blocks. This work is continuing through 2023 and will eventually see 14,500 high and low rise flats participating. It is being implemented on a block by basis to achieve greater buy in of residents and maximise participation, and will add to the 59,000 households who have been able to recycle their food waste since 2020.
Cllr Karen Rowland, Lead Member for Environmental Services & Community Safety, said:
"Joining in with food waste recycling is a great way to do your bit for the environment, and Reading residents are really excited about participating.

"We want to reach out to those of you, however, who have fallen off the recycling habit, or are having issues, to join back in the recycling routine with your neighbours! If this is you, please contact the Council on 01189 373787 or via the website to make arrangements to get back in the groove on food recycling!

"For those of you well into recycling, take advantage of our tips to improve your own food recycling, save yourself money and be smarter about what you buy and find ways to make your food last longer".
Find out more about food waste recycling in Reading on the Council's website.