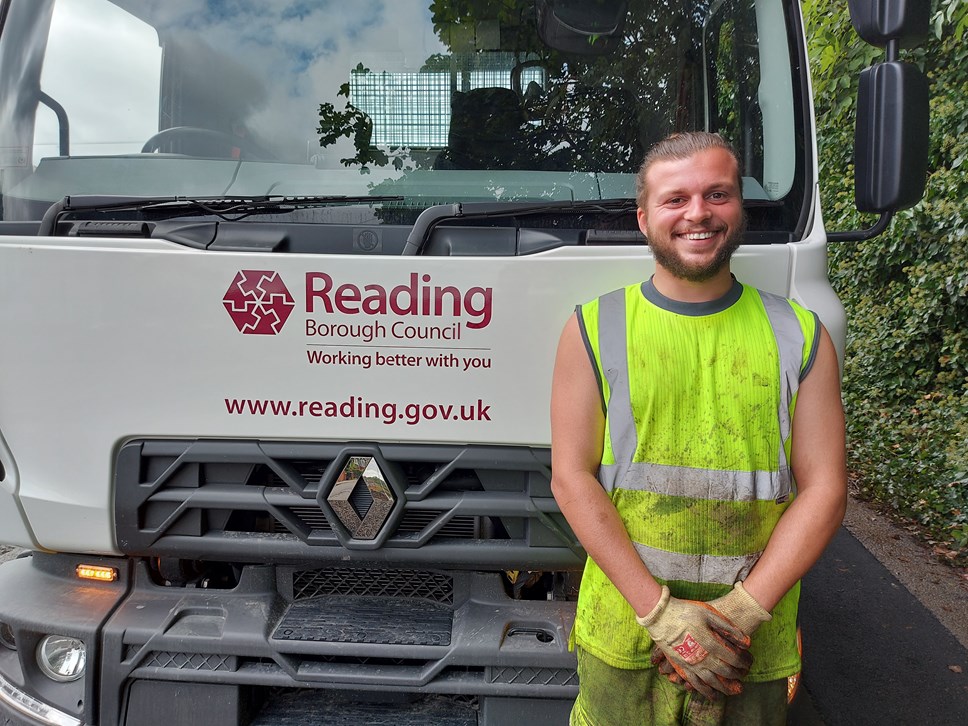 Council Apprenticeships Providing Skills For Local People Whilst Serving The Community
New apprentices have joined the housing repairs and maintenance team
Existing staff in the highways team are gaining extra qualifications through an apprenticeship
Scheme gives Reading Borough Council the opportunity to provide local people with skills and qualifications whilst boosting its services to residents
READING Borough Council has taken on a group of apprentices to help provide them with the practical skills and qualifications that will allow them to progress trade careers.
Three new apprentices began in the housing repairs and maintenance team in late September are learning skills relating to renewables and solar energy, painting and decorating, and kitchen fitting, all key strengths as the Council prepares to create over 300 new affordable homes in the next four years with an emphasis on the environment and quality.
The three new starters have hit the ground running having joined the council just six weeks ago, with training consisting of a combination of academic learning and on the job training.
Apprentice Ryan, learning kitchen fitting, said:
"I'm learning important skills like how to grout and polish tiles and how to fit doors and drawers. I'm really happy with how I'm being taught and it is all going smoothly due to the good communication".
Painting and decorating apprentice Keela added:
"I'm learning the proper techniques for preparing and painting surfaces, skills I can use in future jobs and in everyday life. It's been good so far – everyone is nice".
Reading Borough Council's new apprentices including Ryan (left) and Keela (centre)
Reading Borough Council pays 0.5% of its wage bill into the apprenticeships levy account, which can be used for formal apprenticeship training to boost local skills and services, and is also being used to offer apprenticeships to existing team members. By helping teach them additional skills, they will be enabled to move their careers forward faster, and this will also help residents through even better service from crews with wider skill sets.
Four existing staff in the Highways team began the Level 2 Construction Plant Operations Apprenticeship earlier this year. This apprenticeship involves learning on four common types of construction plant – a 360-degree excavator, dumper/dump truck, ride-on roller and telehandler, as well as undertaking a range of non-operational activities with each machine such as the checking, maintaining and cleaning of their machine and vehicle marshalling. The course takes just over a year and upon completion the learners will have achieved the Apprenticeship Standard Certificate and for each of the plant categories they will achieve a CPCS cards and NVQs.
Jordan Brookson, a Highways Senior who has been with Reading Borough Council for 8 years, is one of the existing team on the Construction Plant Operations apprenticeship and said:
"I'm quite an experienced team member anyway, but the apprenticeship gives me training and qualifications to be able to operate extra machinery, some of which involves visiting the training site in Tadley to gain qualification cards. It is helping me climb the ladder within the Council and will open up doors for me to progress my career and explore different avenues. The benefit to residents is that they are getting a worker who is higher trained with scope to do more whilst out on jobs around Reading".
Cllr Tony Page, Deputy Leader and Lead Member for Strategic Environment, Planning and Transport, said:
"I'm delighted that as a Council we are able to provide such valuable opportunities not just to new starters to provide them with a platform and knowledge on which to build their future careers, but also to help enhance the skillsets and options for our current staff too. As well as helping Reading people to progress their careers, we're also benefitting Reading's residents by ensuring the staff out on jobs around the borough are as skilled and knowledgeable as possible".