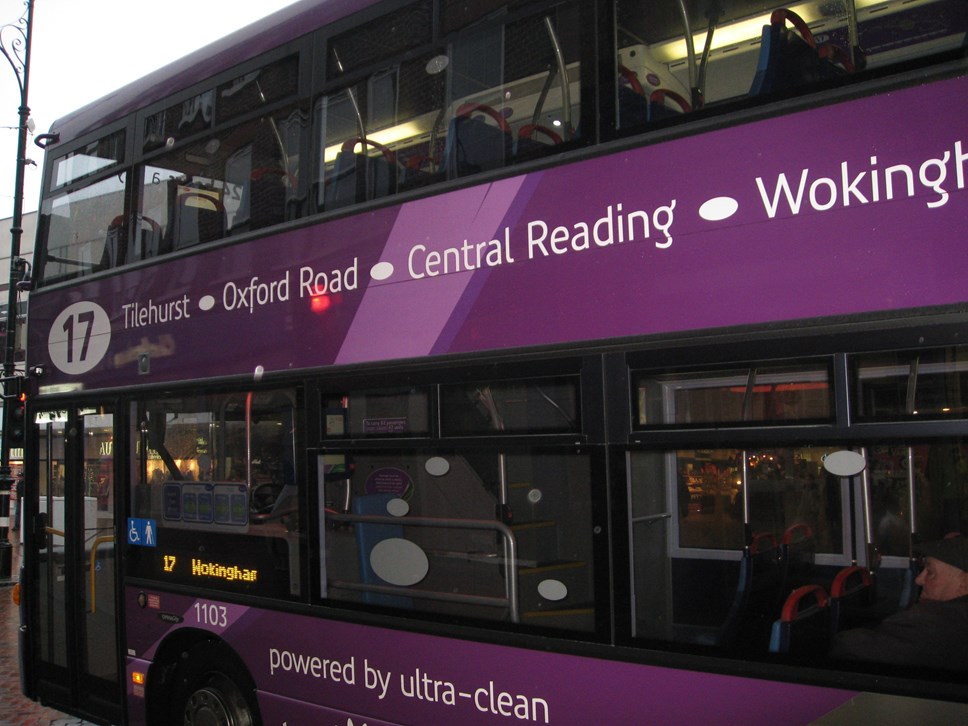 Consultation on proposals to speed up bus journeys in Reading
Consultation launched on six proposed new bus lanes
Council's £26m investment aims to make bus services even faster and more reliable
Residents can have their say at community drop-in sessions and online
Proposals to speed up bus journeys in Reading by introducing more dedicated bus lanes around the town are now out for public consultation.
The plans for six new bus lanes are part of the Council's £26 million bus investment which aims to attract new passengers to even faster, more reliable and better integrated public transport in the town.
Residents were first invited to comment on the proposed new bus lanes during an informal consultation in May and June this year. The Council has taken on board feedback and is now progressing with a formal consultation on the plans.
The proposed new bus lanes are:
A329 Oxford Road - outbound bus lane between Zinzan Street and George Street
A329 Oxford Road - outbound bus lane between Pangbourne Street and Norcot Junction
A4 Bath Road - outbound bus lane from Circuit Lane to Granville Road
A327 Southampton Street - inbound bus lane from Pell Street to The Oracle roundabout
A4 London Road - inbound bus lane between Sidmouth Street and London Street
A4 London Road - inbound bus lane between Liverpool Road and Cemetery Junction
The Council's Bus Services Improvement Plan (BSIP) is an important part of the overall Reading Transport Strategy which aims to reduce congestion, tackle poor air quality and create a healthier town for residents and visitors.
Residents can comment on the proposed bus lanes, and other elements of the Council's transport strategy, at a series of drop-in sessions being held around the borough.
Comments about the bus lane proposals can also be made on the Council's consultation webpage at: https://consult.reading.gov.uk/dens/bus-service-improvement-plan-statutory-consultatio/.
Other recent improvements delivered from the BSIP includes the launch of Tap on Tap Off technology on buses, with a special offer of a £3 fare cap, and the introduction of the 'Reading All-Bus' ticket which allows passengers to use Reading Buses, Thames Valley Buses, Arriva and Thames Travel services with the same ticket in the Greater Reading area.
Future proposed improvements include extensions to bus services in south Reading, developing park and ride services, better bus information and further phases of the South Reading MRT scheme on the A33.
Cllr John Ennis, Lead Councillor for Climate Strategy and Transport, said:
"Reading already has an extensive and well-used bus network which provides vital access to opportunities such as education, training, employment and essential services, such as healthcare, as well as for leisure.

"However, bus services can suffer from delays due to traffic congestion, particularly at peak times. The creation of bus priority measures on key routes aims to make travelling by bus quicker and more reliable and therefore a more attractive option for getting around town.

"More people choosing to travel by bus will result in reduced carbon emissions, better air quality and improved health and wellbeing – tying in with our vision of a net zero carbon Reading by 2030.

"We recognise that limited road space in Reading means these plans will have a potential impact on traffic flows and will require careful traffic modelling and design which is why we are keen to hear the views of as many people as possible during this consultation."
The drop-in sessions where people can give their views on the proposed bus lanes and Reading Transport Strategy are happening as follows:
14 Nov: Battle Library, Oxford Road, 1-7pm
15 Nov: Reading Town Hall, Blagrave Street, 1-6pm
16 Nov: Caversham Library, Church Street, 1-7pm
21 Nov: Whitley Library, Northumberland Avenue, 1-7pm
23 Nov: Palmer Park Library, St Bartholomew's Road, 1-4pm
Anyone unable to attend can comment on the proposed bus lanes at: https://consult.reading.gov.uk/dens/bus-service-improvement-plan-statutory-consultatio/.
The deadline for comments is 7 December 2023.