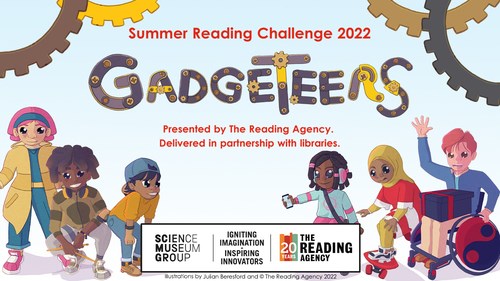 Children invited to join the 'Gadgeteers' at Reading Libraries this Summer
Summer Reading Challenge launching 9 July 2022
Children aged 4-11 encouraged to sign up to read at least 6 books over the summer
Free activities and events at a library near you
READING Library Service's much-loved yearly Summer Reading Challenge is available in all Reading Libraries from the end of this week (9 July).
The library service is calling for children aged 4 to 11 to sign up to read six books this summer as part of the exciting 'Gadgeteers' science and innovation-themed Summer Reading Challenge 2022.
The free reading challenge aims to get more children reading over the summer period – a time when children's literacy skills traditionally dip. Following the closure of libraries and the disruption to school attendance during the pandemic, the challenge offers a fun way for children to rediscover and re-engage with their local library and to catch up on their reading skills.
Children are challenged to borrow and read at least six books over the holidays and are rewarded for each book read. All children receive a poster, bookmark and fun scratch and sniff stickers. On completion of the challenge, children will also be presented with a special certificate and a medal.
Watch Reading Librarian Craig explaining how the challenge works:
Children will be able to join six fictional 'Gadgeteer' characters – brought to life by children's writer and illustrator Julian Beresford – using their curiosity and wonder to understand the science behind a whole range of interests, from fashion and technology to cooking and music. They will be boggled by brilliant facts, gaze at the stars, and be inspired by tales of creativity and invention.
To take part in the library challenge and receive a collector folder and stickers, families can drop in to pick up a starter pack at their local library branch.
Anyone who is not a member can join the library instantly at www.reading.gov.uk/libraries and also borrow books online. The latest details and full opening times can always be found at: www.reading.gov.uk/libraryrestart
Children can also join in the fun online, here on the official challenge website: https://summerreadingchallenge.org.uk
Adele Barnett-Ward, Reading Borough Council's Lead Councillor for Leisure and Culture, said:
"I'm delighted this year's science and innovation themed Summer Reading Challenge is back from 9 July across all Reading Libraries - to help get local children reading, innovating, and sparking their imaginations this summer. There are loads of goodies available for everyone taking part and best of all, it is completely free! If you aren't a library member – no problem – sign up quickly and easily online or at your local library.
"We know children's reading can 'dip' during the long summer holidays if they don't have regular access to books and encouragement to read for pleasure, impacting their learning at the start of the next school year.
"The Reading Challenge is always popular but after such a difficult and unsettling couple of years for children, the programme is more important than ever, supporting and encouraging vital reading catch-up activities. In previous years the challenge has seen thousands of children in Reading taking part and I'm eager to see as many youngsters as possible join in with this year's free, fun-packed 'Gadgeteers' challenge and make the most of their local library this summer."
Reading Library Service is also still looking for young people aged 14 to 18 who can encourage children to take part in and complete this year's Summer Reading Challenge.
Cllr Barnett-Ward added:
"This is a great opportunity for young people between 14 and 18. Reading Challenge Volunteers will learn new skills, gain valuable work experience, and have fun doing so. The only qualification you need is a love of reading. Volunteers supporting the Reading Challenge this summer will play a valuable role in keeping children engaged with books by being positive role models and advocates for reading."
Tasks will include talking with and listening to younger children about the books they have been reading and suggesting other things they may like to read. The aim would also be to help the children and their parents or carers to understand how the Summer Reading Challenge works, handing out rewards and supporting with events and craft activities.
The library will provide training, supervision and support and it is a great opportunity to develop new skills and experience for the future as well as gain work experience for CVs. Volunteering can also help with accreditation for Duke of Edinburgh or Arts Award.
The closing date for volunteer applications is Thursday 21 July 2022.
For more information and to apply visit: www.reading.gov.uk/leisure/libraries/volunteering-for-our-summer-reading-challenge
ENDS