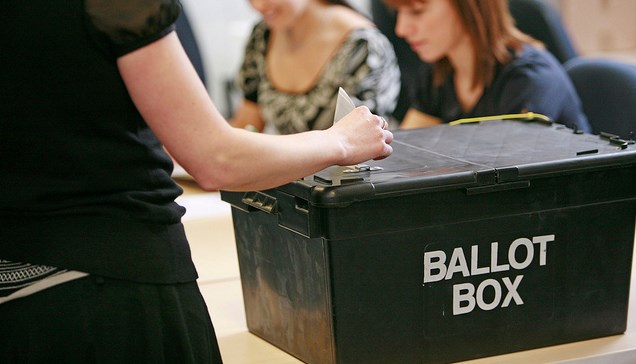 Check if Your Polling Station has Changed Before May 5th
Residents urged to check if their usual polling station has changed before May 5
Changes in ward boundaries mean some polling stations in Reading have changed this year
Council is reassuring residents that precautions remain in place at polling stations to help keep everyone safe
RESIDENTS intending to vote at their local polling station are being urged to double-check if their usual location has changed this year as a result of a recent ward boundary review in Reading.
People can very quickly check their local polling station at https://wheredoivote.co.uk/ or by taking a look at the polling card sent to them by the Council.
There are a total of eight new polling stations in Reading this year, which span seven wards. Residents who live in these wards are asked to check online or on their polling card if the new polling stations apply to them.
The eight new polling stations and the wards they sit in are:
Abbey Ward - Reading Central Library, Abbey Square, Reading, RG1 3BQ
Caversham Ward - Caversham Library - Caversham Library, Church Street, Reading, RG4 8AU
Caversham Heights Ward – Mapledurham Pavilion, Woodcote Road, Caversham, Reading, RG4 7ER
Kentwood Ward – Norcot Community Centre, Lyndhurst Road, Tilehurst, Reading, RG30 6UB
Redlands Ward – Park Lounge, Windsor Hall, University of Reading, Upper Redlands Road, RG1 5JL.
Southcote Ward – YMCA Parkside Road - 34 Parkside Road, Reading, RG30 2DD
Whitley Ward - Green Park – 100 Longwater Avenue, Green Park, Reading RG2 6GP
Whitley Ward - Kennet Island Community Centre - The Meeting Point (Kennet Island), The Piazza, Whale Avenue, Kennet Island, Reading, RG2 0GY
The Council has also produced a You Tube video which shows the locations of each of the eight new polling stations at https://youtu.be/LtjQwDTe7Lg and will be publicising the changes on its social media channels in the run up to polling day on Thursday May 5.
All residents are asked to check their polling stations before polling day in case locations have changed as a result of the boundary review.
With just over a week to polling day, Reading Borough Council is also reminding voters what to expect on the day, with additional precautions in place again due to ongoing high Covid rates.
All 48 seats across 16 wards in Reading are up for election this year, in Reading's first 'all out' election in 18 years. Voters will be asked to vote for no more than three candidates on their voting slip.
Polling stations are open from 7am to 10pm and people are encouraged to keep themselves and others safe by:
wearing a face covering if possible
bringing their own pen or pencil
cleaning their hands when entering and leaving the polling station
keeping a safe distance
Residents should not attend the polling station if they have symptoms of Covid-19 or if they are self-isolating. Anyone who develops symptoms before polling day, has up to 5pm on polling day to apply for an emergency proxy vote. This allows them to nominate someone they trust to vote on their behalf. To arrange it speak to the local Electoral Services team in Reading on: 0118 937 3717 or email elections@reading.gov.uk
On polling day itself, staff will be on hand to assist voters with any questions about filling out their ballot paper. There are also a number of items that will be available at polling stations to help people cast their vote, including large print sample ballot papers and tactile voting devices to help those with a visual impairment.
The Council will also continue to accept postal votes up until polling day. If you have a postal vote but have left it too late to post, you can drop into any local polling station as long as it is before 10pm on May 5.
Christopher Brooks, Electoral Registration Officer for Reading Borough Council, said:
"The election team here at Reading have been working hard to ensure polling stations will be safe places to vote on May 5th and people arriving on the day can expect to see many of the measures they've become used to in shops or other indoor spaces, such as social distancing and hand sanitiser for example.
"Your poll card will tell you where to find your polling station. It is important this year to make sure you check the information on your polling card, as your polling station might have changed since the last elections.
"As usual, you do not need your poll card to vote, but we would encourage you to bring it with you as it makes the process quicker and more efficient for everyone. It should only take a few minutes to vote. We have put arrangements in place to help maintain social distancing, so if you are asked to queue, please be patient and we will work to enable you to vote as quickly as possible. If you need any assistance on the day, just ask the staff at the polling station – they are there to help."
Residents can visit the FAQ page at https://www.reading.gov.uk/the-council-and-democracy/elections-and-voting/local-borough-elections-2022/ to find out more about the elections on 5 May 2022, including a full list of candidates for all 16 wards. Residents with questions can also contact their local elections team at Elections@reading.gov.uk