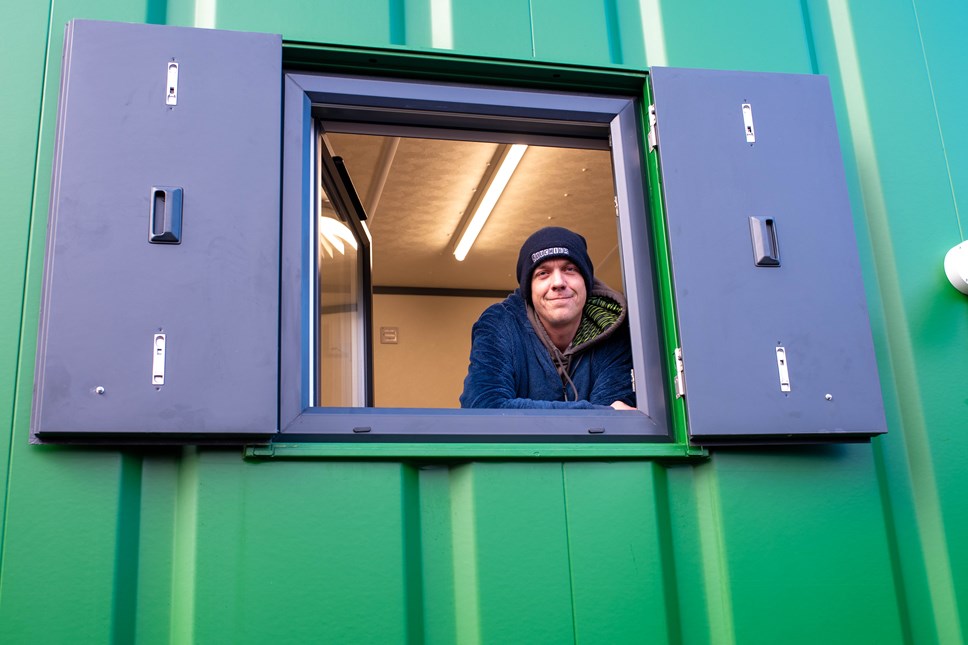 Caversham Road Modular Housing Gives 40 Rough Sleepers a Home This Christmas
People who have been sleeping rough are now moving in to a dedicated development in Reading with 24/7 support
40 modular, furnished homes are available along with a laundry room to help people rebuild their lives
FORTY people who have previously been sleeping rough will enjoy Christmas in their own homes this year thanks to the completion of the Council's innovative modular homes development on the Caversham Road.
The site opened last Monday, with ten people moving in to their new homes that week and more arriving daily. Built over the summer, the £2m investment to install 40 temporary modular homes at the site has allowed the council to rehouse people who had been found sleeping rough and were subsequently accommodated in B&B accommodation to protect them during the COVID-19 pandemic.
It is hoped the new homes will give people the opportunity to rebuild their lives through longer-term accommodation paired with the essential support they need to take the next step to break the cycle of rough sleeping.
The homes benefit from on-site staff provided by the Council's partner, homeless charity St Mungo's. Case workers are available 24/7 to provide wraparound intensive support for residents, helping with any issues that may be troubling residents at any time of day or night. Residents are also encouraged to engage with the Recovery College for support with volunteering and getting into work, as well as to connect with appropriate services to manage any individual issues such as social isolation, mental health or substance misuse support.
Jamie, 35, has lived on and off the streets for the last 20 years in London and Reading and was one of the first to move in to the new community last week. He said:
"My first night was lovely; I have heating I can control, a proper bed, a fridge. This is a dream for all homeless people. It was a weird feeling being inside after so long sleeping outside. Every Borough should have a project like this. I'm like a kid at Christmas. This is the start of my life, welcome to paradise."
Each modular home is equipped with a new kettle, microwave, toaster, tv, crockery and bedding and all have their own private bathrooms. A laundry room with new washing machines allows residents to live independently on site.
As with all future Council homes, the pods are constructed with the environment in mind to help achieve its goal of becoming a carbon-neutral town by 2030. The new homes maximise energy efficiency, and are well insulated and heated via electric panel heaters. LED lighting is used both internally and externally on the pods, and windows and doors are triple glazed.
Abbey ward councillors (top to bottom) Mohammed Ayub, Karen Rowland and Tony Page at the 40 modular home site
The extensive provision of support for residents on site is thanks to the Council's successful bid for funding to the Ministry of Housing, Communities and Local Government (MHCLG) as part of its Next Steps Accommodation programme to address rough sleeping following the 'Everyone In' initiative as a result of the pandemic. The £2.3m award enabled the Council to commission St Mungo's to provide the bespoke support required for those with a rough sleeping history for both the modular homes project and the Nova project, another innovative scheme put in place by the Council specifically for women. The MHCLG is now known as The Department for Levelling Up, Housing and Communities, and representatives from the department will be visiting Reading on Friday 10 December to see the results of the investment.
Swift and decisive action from Reading Borough Council provided over 260 people with the safety and security of temporary accommodation throughout the COVID-19 pandemic, most of whom have now been moved on into alternative accommodation.
The temporary modular housing on the Caversham Road site forms just one part of the Council's plan to deliver over 300 new homes in the borough during the next three years, including sheltered housing, homes for key workers and supported accommodation for those with mental health needs, as well as general housing to help reduce the Council's housing waiting list.
Reading Borough Council's Lead Member for Housing Ellie Emberson said:
"It is so meaningful that we are able to give 40 residents who have been rough sleeping around Reading the opportunity to have their own place with valuable on-site support. We know homelessness needs a partnership approach, through our joint working with St Mungos we are offering high-quality transitional housing with the needed support. This is an innovative way to tackle homelessness with new residents already sharing positive comments about the opportunity this presents them by getting off the street".
Matt Rudd, Regional Head at St Mungo's, said:
"We are very excited to launch this project. The site is looking really nice and will be a community for people to get back on their feet. The site is managed 24-7, with laundry facilities, a recycling area and some raised beds where we hope residents will fully utilise and grow their own vegetables. We have high hopes for the success of the Caversham Road site."
Notes to editors
If you would like to be present at the Caversham Road site on Friday 10 December to report on the visit from the The Department for Levelling Up, Housing and Communities, and to interview those involved in the initiative, please contact John Phillips (john.phillips@reading.gov.uk) to arrange access.