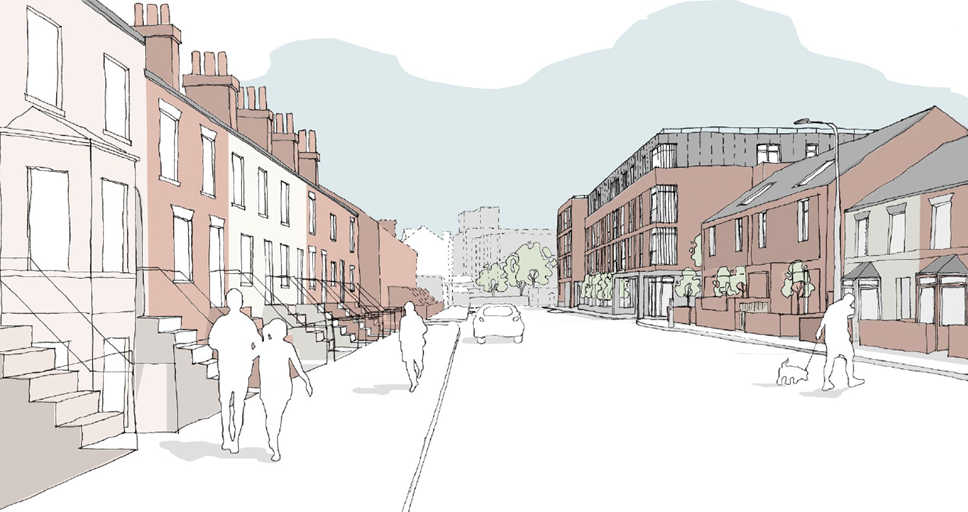 Battle Street Scheme to Build New Affordable Homes and Adult Social Care Facilities to be Considered This Week
Development plans include much needed affordable homes and sheltered housing for over 55s
Former swimming pool site will also provide for adults who need support with their mental health
Part of Council's investment of over £110m in 400 new affordable homes from 2021 to 2026
Council plans to build even more affordable homes for Reading alongside new homes and facilities for elderly and vulnerable residents will be considered later this week.
A planning application for the Battle Street site will go before a meeting of the Council's Planning Applications Committee on Wednesday 1 March.
The Council's application is to transform the old Central Swimming Pool site on Battle Street into affordable council homes along with an older person's day centre, sheltered housing for over 55s and supported living flats.
The proposed new development includes:
29 1-bed flats along with a day centre providing sheltered housing for Reading's over-55s
13 1-bed flats creating a supported living environment to allow adults who need support with their mental health to live as independently as possible in their own homes
20 new affordable homes for residents on Reading's housing register, made up of:
- Six 1-bedroom homes in the form of a bungalow and five flats
- Eight 2-bed flats
- Four 3-bed flats
- Two 3-bedroom houses
If approved by the Council's planning committee this week, work is expected to begin at the site next winter. The current schedule is that the development would be fully complete by autumn 2025. Local residents living in the vicinity will be kept up to date with progress through regular communications.
The proposed development will be built to passivhaus principles which is the industry standard for an environmentally friendly scheme. It will include solar panels on the roofs of all buildings, nine electric vehicle charging points and increased biodiversity thanks to additional tree planting around the Battle Street and Bedford Road sides of the building. Gardens, roof terraces and a courtyard with a water feature also form part of the plans.
The 62-home Battle Street site forms part of the Council's bold commitment to provide 400 affordable new homes in Reading between 2021 and 2026, an investment in excess of £110m. Over 100 of these are scheduled to see residents move in this year.
This innovative and valuable use of the former swimming pool site has been made possible due to the Council's vision and investment in improved leisure facilities in the town. This has already seen Palmer Park Leisure Centre, including a 25m community pool, open to great acclaim in January, with a further swimming pool at Rivermead Leisure Centre also set to open later this year.
Ellie Emberson, Lead Member for Housing, said:
"This is a hugely exciting development which forms part of this Council's continued commitment to providing high quality and desperately needed new affordable homes in Reading.

We are investing £110m in nearly 400 new affordable council homes, with more than 100 of those homes becoming available to residents in 2023, relieving pressure on our housing waiting list.

I look forward to this innovative project coming to fruition if approved by the Planning Committee next week. We are focused on providing more opportunities for everyone, and Battle Street forms part of a much wider provision of housing for all in Reading".
John Ennis, Reading Borough Council's Lead Member for Adult Social Care, said:
"The Battle Street development is the most significant investment in modern new adult social care facilities for a number of years.

If approved it will help to transform the lives of some of Reading's most vulnerable people and provide the independence elderly people tell us they want, safe in the knowledge that help is at hand if they need it".