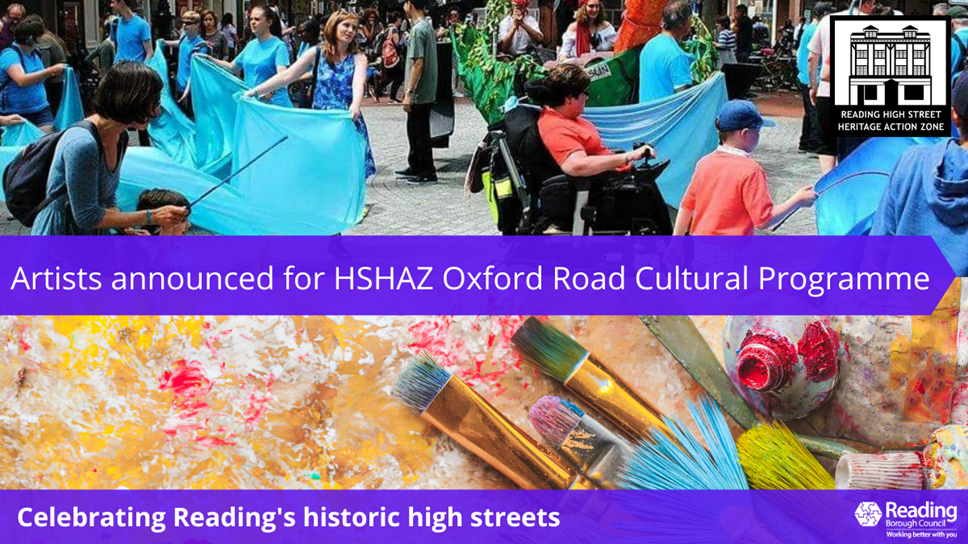 Artists announced for next stage of heritage funding for projects celebrating Oxford Road
Two £9k grants awarded to local art groups
Cultural projects include an after-school programme and community newspaper
THE NEXT stage of cultural projects celebrating the history of Reading's high streets has begun, with funding being awarded to local artists.
Following the successful High Street Heritage Action Zone (HSHAZ) pilot projects in 2021, applications opened for funding between December 2021 and January 2022 for local artists and arts organisations to apply to run creative and cultural activities with the communities of Oxford Road.
The Council has awarded two £9k grants to local Reside Dance C.I.C, and visual artists Lisa Marie Gibbs and Philip Newcombe for their creative projects exploring and celebrating the heritage and diverse communities of the Oxford Road, taking place between April and October 2022.
Reside Dance will work with local primary school pupils and their families using movement, creative games and artwork. ReConnect, an after-school arts programme will offer families a different context to reconnect, heal fraught relationships through play and laughter, leave laptops and screens behind, and enjoy the present moment of being together.
Local visual artists Lisa-Marie Gibbs and Philip Newcombe will be running workshops with members of the Oxford Road community looking at how objects hold our own personal and collective stories. Using sound recording, sculpture, text and other forms of art-making, the workshops will allow participants to discover 'hidden stories' and as a collective bring these stories of the people and place of the Oxford Road to life.
The project will culminate in the creation of 'The Oxford Road Times' a one-off, limited-edition, free newspaper, telling the stories and highlighting the creativity of the oxford road, to be distributed in newsagents, shops and outlets along the Oxford Road.
Cllr Adele Barnett-Ward, Lead Councillor for Leisure and Culture, said:
"I'm thrilled our brilliant High Street Heritage Action programme continues to celebrate Reading's rich diversity and tell the fascinating stories of the Oxford Road.

"The fabulous pilot projects launched last year have already begun to raise the profile of the area's history and diversity, and I'm particularly looking forward to discovering where the next stage of the project will take us."
Louise Dandy, Historic Places Adviser at Historic England, said:
"The Oxford Road has so much to offer. These two new projects will help bring out that special character of the high street, celebrate the stories of people that live or work nearby, and strengthen bonds within the community."
ENDS
Notes to editors
About High Streets Heritage Action Zones
The High Streets Heritage Action Zones is a £95 million government-funded programme led by Historic England, designed to secure lasting improvements and help breathe new life into our historic high streets for the communities and businesses that use them. Historic England is working with local people and partners to unlock the rich heritage on these high streets, through repair and improvement works as well as arts and cultural programmes, making them more attractive to residents, businesses, tourists and investors.
https://historicengland.org.uk/services-skills/heritage-action-zones/regenerating-historic-high-streets/
About HSHAZ Cultural Programme
Reading Council was awarded an £85,000 grant in May 2021 from Historic England as part of the Reading High Streets Heritage Action Zone (HSHAZ) to create and deliver community-led cultural activities within the HSHAZ area high streets over the next three years.
Reading is one of more than 60 towns within the HSHAZ national programme to receive a share of £6 million for their cultural work within the scheme. Grants of up to £120,000 have been awarded to local arts organisations for cultural activity on each high street. Reading's High Streets Heritage Action Zone team, led by Reading Borough Council and other partners, including The Museums Partnership Reading, will run a programme of exciting new cultural activities to complement the wider project over the next 3 years in three historic areas of Reading.
Planned activities include an open call for cultural community projects in the Oxford Road area, continuing the work of a recent pilot project 'Re-imagining the high street through your stories' which concluded with three exciting art projects courtesy of local artists Baker Street Productions, Gemma Anusa and Caroline Streatfield.
With the new funding, work can be continued from the pilot project on Oxford Road; grass roots community groups and cultural organisations will have the opportunity to lead cultural activities as well as having access to a mentoring scheme that aims to support groups to access funding in the future.
Other activities will be focused in the St Mary's Butts/Castle Street and Market Place/London Street heritage areas, with the theme of exploring and telling the hidden histories of these historic high streets areas through community co-produced research and resulting in art installations in the local area.
This is part of the four-year-long High Streets Heritage Action Zones' Cultural Programme, led by Historic England, in partnership with Arts Council England and the National Lottery Heritage Fund. The Cultural Programme aims to make our high streets more attractive, engaging and vibrant places for people to live, work and spend time. The Council's wider High Streets Heritage Action Zone programme will run for 3 years until 31 March 2024. The project aims to breathe new life into the radial high street areas of Reading off of the immediate town centre.
About Historic England
We are Historic England the public body that helps people care for, enjoy and celebrate England's spectacular historic environment, from beaches and battlefields to parks and pie shops. We protect, champion and save the places that define who we are and where we've come from as a nation.
We care passionately about the stories these places tell, the ideas they represent and the people who live, work and play among them. Working with communities and specialists we share our passion, knowledge and skills to inspire interest, care and conservation, so everyone can keep enjoying and looking after the history that surrounds us all.
Connect with the project via social media:
You can also follow @HistoricEngland
#HistoricHighStreets