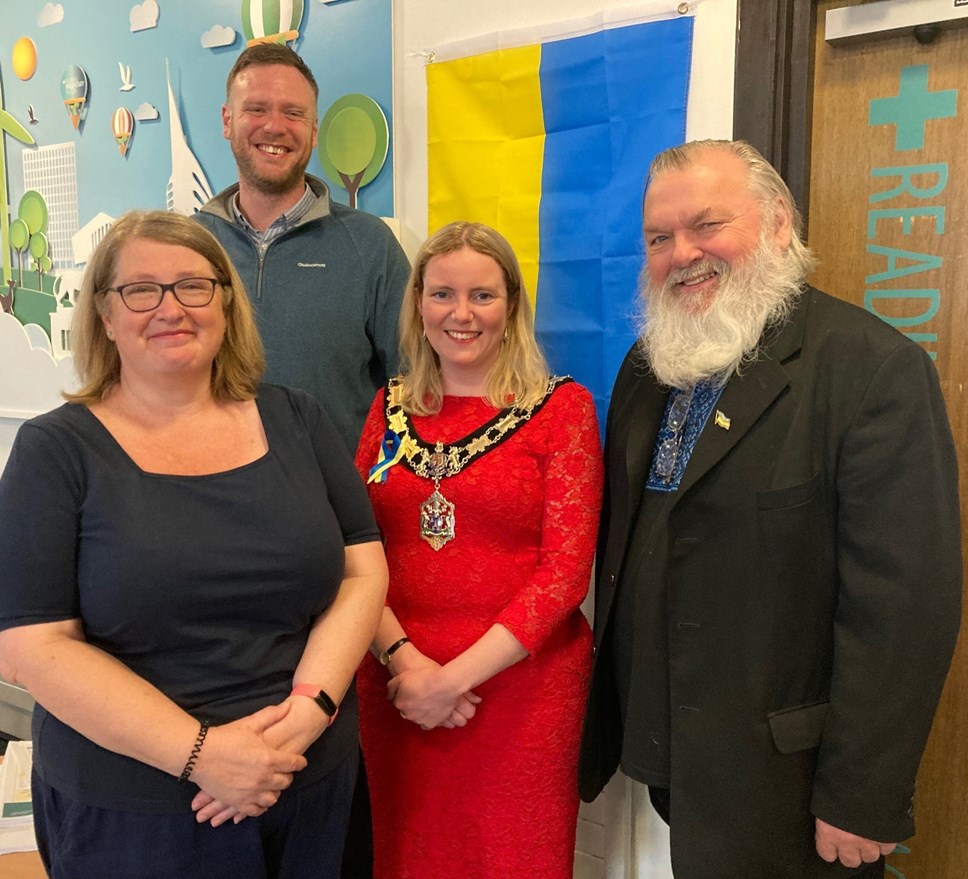 Advice centre for Ukrainians arriving in Reading opens in the town centre
A NEW support hub to provide valuable support and advice to Ukrainian nationals who have relocated to Reading has opened at Reading Central Library.
The Reading Ukraine Advice Centre will help with aspects of living in the UK such as using the NHS, housing, employment, education, benefits, consumer rights, immigration, and lots more. It will also provide advice to family members and local sponsors of Ukrainian nationals.
Located on the third floor at Reading Central Library, the centre will be open 10am to 3pm, Monday to Friday. Access to the service is by appointment which can be booked in person or by phoning 0118 952 3028.
Reading has welcomed more than 90 Ukrainian guests since the Russian invasion in February, and many more due to arrive over the next few weeks and months.
Council Leader Jason Brock and Reading Mayor Councillor Rachel Eden visited the new support hub today, Tuesday 31 May.
Council Leader Jason Brock said "Reading is a City of Sanctuary, not only in name, but in our actions. We welcome the people of Ukraine, whose lives are being affected by this terrible war and who have come to Reading for sanctuary."
"As a council, we are fully committed to working with local partners to ensure comprehensive support is in place for local sponsors and our Ukrainian guests. We can only imagine how difficult the past few months have been for them and how difficult it is to settle in a new country while war is still raging in their homeland. I'm pleased this Advice Centre at Reading Central Library is now up and running to provide valuable advice and support."
Councillor Eden said "Reading continues to stand with Ukraine and its people, now and in the difficult months to come. If we can make their introduction to Reading that bit easier through the opening of this centre, then it will be of huge benefit to them."
"I know that many people want to help locally, and donations can be made to the Mayoral Appeal fund. The Ukrainian Community Centre will make best use of these donations and the money will allow them to be flexible in the support they give to Ukrainians who need help."
In March Reading Mayor Councillor Rachel Eden launched an appeal for financial donations to the Reading Ukrainian Community Centre donations can be made at http://www.reading.gov.uk/mayorsappeal
Mick Pollek of Reading Ukrainian Community Centre said. "Whilst Reading has had more than 90 arrivals; as the regional Ukrainian Community Centre we have also welcomed guests from other Local Authority areas. We endeavour to help all as best we can."
"From the day after the invasion Reading Mayor Cllr Rachel Eden and Cllr Jason Brock have moved heaven and earth to help us. They made it possible, in conjunction with Citizens Advice Reading, to set up this very important wraparound help and advice centre. In our view it's a gold standard provision that should be repeated in other Local Authorities. It's a hand in glove service with our centre in Sidmouth Street."
Fraser Gleave, Citizens Advice Reading, Advice Services Manager said. "We're really excited to be able to tailor our service to people coming to Reading from Ukraine and to have space that is entirely for them in Reading Central Library."
"The council's support in providing this service is a brilliant step for the town as it not only shows their commitment to helping this group of people, but also enables us to do it without compromising our existing service to the community."
"With close support from Reading Ukrainian Community Centre (RUCC) and by involving recent arrivals from Ukraine in the service, we're confident that the strengths of the Citizens Advice service and expertise of RUCC will mean that our two local charities offer an unmatched level of support to people fleeing the war."
The Reading Ukraine Advice Centre is run by Citizens Advice Reading with support from Reading Ukrainian Community Centre and funded by Reading Borough Council.